Slumped in his chair, he launched into a pointless spiel about being up half the night relooping lines from the movie. We wanted to take him at his word – he was pathetic in his eagerness to convince us he was fine. But a few months later, police stopped him for speeding on the Pacific Coast highway and found cocaine, heroin and a pistol in his car. Another downward spiral was underway – and this one almost destroyed him. Today, Downey is one of the biggest stars in Hollywood. He finally demonstrated the courage and willpower to stay clean. But let's not forget that until then, he had been indulged in his addictions by the studios, by the media that liked him and by the judicial system. The courts showed remarkable leniency toward his breaches of probation and – on three notorious occasions in 1998 – sprung Downey from prison so he could work on films, where he was treated like royalty and would buy lunch in Paramount's VIP dining room for awed sheriff's deputies accompanying him to the studio. All this was too much for The Los Angeles Times. In a blistering editorial, it charged that Downey was being indulged by the courts, cops and film industry. The message was clear: This was a pampered celebrity who received the kind of favoured treatment that would be denied people like you and me. The Times zeroed in on a further uncomfortable truth – that Hollywood continued to employ Downey while ignoring his drug problem. But not all of Hollywood: The producers of Ally McBeal finally fired him from the show for failing to clean up his act. A couple of minutes on the Internet will deliver seemingly endless lists of celebrities with drug histories. And yes, some manage to survive unscathed – Jack Nicholson, who has received a free ride from an uncritical media for years, being a prime example.
John Lennon's star on Hollywood Walk of Fame defaced by vandals
"I yelled out, 'Help, we really need somebody!'" she joked Tuesday, confirming that a worker returned the star to its pristine condition Monday. "This is history. It's a historic monument and should be respected, not desecrated like that." George Stroud/Getty Images The star was defaced with markings over the weekend – just days before what would have been Lennons (pictured in 1969) 73rd birthday. Martinez, who produces the Walk of Fame ceremonies for the Hollywood Chamber of Commerce, said she learned about the vandalism Sunday night after a tour guide discovered the markings Saturday and alerted Beatles journalist Steve Marinucci, who in turn reached out to her. I saw it and just thought, 'What morons did this?' It was just so tacky," tour guide Gillian Lomax told The News Tuesday. "Maybe John would have liked it if it said something funny, but it was stupid teenage crap." RELATED: ONO! YOKO ACCUSED TO STYLE PLAGIARISM Lomax visits the Vine Street location regularly for her Beatles-based "A Magical History Tour" and said the adjacent stars for fellow Beatles George Harrison, Ringo Starr and Paul McCartney were untouched. She said it looked like multiple people were involved because the scribbles, which included a cartoon mushroom and smiley face, appeared to be in different handwriting styles. MICHAEL THURSTON/AFP/Getty Images The nearby stars honoring Lennons fellow Beatles – Paul McCartney, Ringo Star and George Harrison — were left untouched. I bent down to try to get some of the stuff off, but it wouldn't budge," she said. "I was worried we were in trouble." PHOTOS: THE LIFE AND DEATH OF JOHN LENNON Martinez said she immediately contacted the Hollywood Historic Trust, the nonprofit that maintains and repairs the stars, and they were able to get the contractor making the star for Kenny (Babyface) Edmonds' ceremony on Thursday to respond. The Edmonds ceremony is taking place just a couple blocks away, and the contractor sent someone to clean, polish and re-seal Lennon's star within hours, she said. She said she's now waiting for Capitol Records to review security footage to see if the vandals were caught on a surveillance camera. The Walk of Fame is a state-registered landmark, she said, and its supporters won't let it become a destination for taggers the way the gravesite of Doors singer Jim Morrison has in Paris. I want people to know they can go to jail for this," Martinez said.
Witches casting a spell over Hollywood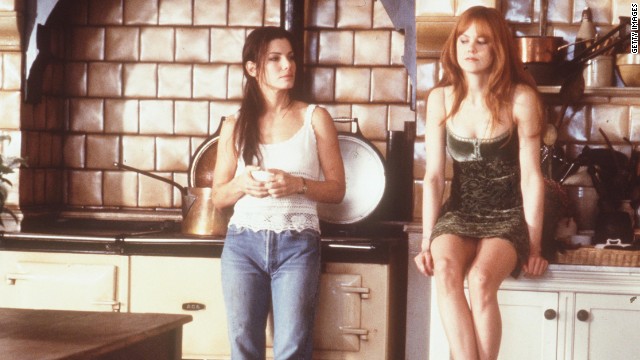 The animated witch was often Bugs Bunny's foe, but given her jovial attitude and infectious giggle, you can't help but love her. Sixties sitcom "Bewitched" lasted long enough to introduce us to three generations of fabulous witches: supernatural housewife Samantha (Elizabeth Montgomery, left), her sly mother, Endora (Agnes Moorehead), and the littlest witch in the Stephens family, Tabitha (Erin Murphy). The hijinks on "Bewitched" are classic, and we still actively wish we could pull off tricks with just a wiggle of the nose. We didn't dig Wilhelmina Witchiepoo's incessant attempts to steal away Jimmy's talking flute, Freddy, but we did think the "H.R. Pufnstuf" (1969-70) character had a wicked ride with the Vroom Broom. Witchiepoo is shown with NFL great Joe Namath. In 1987, Cher, left, Susan Sarandon and Michelle Pfeiffer gifted us with a darkly comic adaptation of John Updike's "The Witches of Eastwick." As three single women unaware of their own power, they accidentally lure the devil right into their idyllic town. We have to agree with Angelina Jolie that it's about time Maleficent, the "mistress of all evil" in "Sleeping Beauty," tells her side of the story. In the 2014 film, Jolie will portray the evil sorceress and reveal why she was so hellbent on cursing Princess Aurora. Let's count the ways 1989's "Teen Witch" won us over: First, there's the rapping "Top That" scene , followed by the final dance , and the fact that she used her powers in pretty much the exact same ways we would have at 16. Better still: Robyn Lively re-created her "Teen Witch" dance moves for her younger sister Blake when the "Gossip Girl" actress married Ryan Reynolds. There's a reason Anjelica Huston's fearsome character was known as the "Grand High Witch" in the 1990 adaptation of Roald Dahl's "The Witches." Not only was she powerful and absolutely horrifying underneath the wig and makeup , she also had a ruthless wit. Disney's 1993 tale of the Sanderson sisters in "Hocus Pocus" has become a Halloween staple in the 20 years since its release. Kathy Najimy, left, Bette Midler and Sarah Jessica Parker are likely somewhere running amok and hunting down virgins on your cable TV right about now. After "explaining it all" on Nickelodeon as Clarissa, Melissa Joan Hart moved on to another starring TV role that's just as memorable.
Hollywood and its Allies Press Legislators to Boost Tax Credits
Chamber of Commerce. By every measure, this program is working, but we need do even more if we want to have any hope of keeping up with competition. What does that boil down to? More money, Gonzalez said to a round of applause in the packed room, and stability. Businesses need certainty and a long-term commitment from the state would provide that. Also read: Movie Production Up 20% in L.A. Area a And It's Not Nearly Enough Capped at $100 million per year, Californias Film and Television Tax Credit Program lags well behind other states and countries in terms of what it can offer financially. Currently more than 40 states and numerous other countries offer tax incentives for film and television production.Proximity to Hollywood and an extensive infrastructure of large vendors, crew and visual effects and post-production facilities offset that to a degree, but the state has been steadily losing production work for years. New Yorks program offers $420 million annually, lawmakers were told, while states like George and Louisiana offer incentive plans that are uncapped. We need to fight back, testified Rusty Hicks, political director of the L.A. County Federation of Labor.